Nov 30, 2022 3:44:21 PM · 3 min read
Supporting Student Health
Healthy students learn better. For this reason, Healthy is one of the five tenets of Ohio's Whole Child Framework. The Healthy tenet reads: Each student enters school healthy and learns about and practices a healthy lifestyle.
Supporting student health requires intentional policies and practices that ensure students have access to health services and resources and are able to thrive physically and mentally. The indicators of a healthy school environment encompass:
inclusivity in school culture,
physical activity,
health education priorities that are integrated with curriculum and activities,
safe and supportive facilities,
family and caregiver outreach and support,
community partnerships,
and child nutritional supports.
How does your school or district create conditions to foster student health? Where do you have gaps in meeting students' overall health needs today and how could you address them? Read on to find resources and ideas for addressing these questions.
---
Network Updates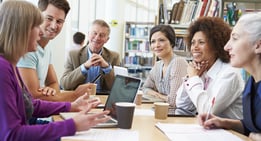 In early 2023, the Ohio Whole Child Network will be launching two new Community of Practice (CoP) cohorts. The cohorts will be made up of similar role groupings of educators participating in various professional learning topics.
Each CoP cohort will delve into professional learning experiences.

The CoP is designed to foster intentional learning and the sharing of best practices.

Each cohort will determine a problem of practice and receive dedicated support from ASCD faculty members.

The specific professional learning content and meeting times will be determined collectively by the cohort.
---
Ohio Updates
Parent Support for a Whole Child Education.

A survey from the Children's Defense Fund-Ohio, in partnership with Baldwin Wallace University Community Research Institute, shows Ohio parents overwhelmingly support "Whole Child" Education and Social-Emotional Learning. Survey findings can be found at

Children's Defense Fund-Ohio

.

Ohio Whole Child Stories.

Knowledge Works is publishing a series of success stories featuring Ohio districts with a whole child-focused approach to education. The stories include:
---
Podcast

Setting the Groundwork for Healthy Schools
In a new episode of the ASCD Connect podcast, Ohio education leaders delve into the Healthy tenet of the Ohio Whole Child Framework. The episode looks at how school systems can coordinate health resources and implement policies and practices that foster health and help students thrive and grow.
Podcast Participants:
Reem Aly, Executive Director of the Ohio School-Based Health Alliance
Lindy Douglas, the Special Programs Coordinator & Whole Child Coordinator for Alexander Local Schools
Joseph Spiccia, Superintendent of Wickliffe Schools
---
Webinar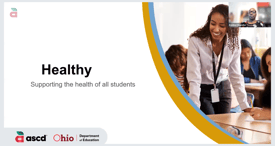 ODE/ASCD November Whole Child Webinar - Healthy

Our latest webinar offers updates and reminders from the Ohio Department of Education on member benefits including access to quarterly newsletters and podcasts. The webinar provides an overview of the Healthy tenet of the Whole Child Framework and features guests from the Fort Frye School District on collaborating with public health partners.